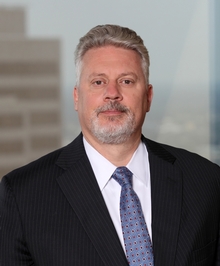 PRACTICES
Business and Commercial Litigation
Civil Litigation, Negligence, and Tort Liability
Governmental Liability
Labor and Employment Law
EDUCATION
University of Memphis School of Law, Memphis, Tennessee
J.D., Doctor of Jurisprudence magna cum laude - 1997
Honors: Humphreys Law Fellowship, Highest ranking class member, Recorded highest score in eight different law school courses
Law Review: University of Memphis Law Review, 1995 - 1997

University of Tennessee
Bachelor of Arts - 1993
Major: History
ADMISSIONS
Texas, 1997
U.S. Court of Appeals 5th Circuit
U.S. District Court Western District of Texas
U.S. District Court Eastern District of Texas
U.S. District Court Northern District of Texas
U.S. District Court Southern District of Texas
Joel E. Geary
Shareholder
CONTACT INFORMATION

V-Card
Joel E. Geary Representative Matters

 

Class Action Litigation

Defeated effort by group of health care workers to certify a Fair Labor Standards Act class action alleging overtime violations.
Along with a team of attorneys, represented publicly-traded technology firm in class action securities and shareholder derivative litigation arising from client's revenue recognition practices.
Representation of national accounting firms in several class action shareholder securities lawsuits arising from audits of publicly-traded companies.
Worked with team of attorneys to defend Korean manufacturer in consumer class action arising from the sale of its MP3 players.
Representation of insurance industry client in class action litigation arising under the federal Driver's Privacy Protection Act.

Professional Liability

Representation of numerous regional and national accounting firms in litigation arising from auditing, tax, and consulting work.
Representation of physicians, nurses, and psychologists in various professional malpractice claims.
Defense of various professionals (inspectors, software consultants, etc.) under Miscellaneous Professional Liability ("MPL") insurance policies.

Technology Litigation

Representation of publicly-traded technology company in International Chamber of Commerce ("ICC") arbitration in Brussels, Belgium (governed by Swiss law) brought by German customer who contended client's software and consulting services were faulty.
Lead defense counsel for publicly-traded software company in $1.4 billion dollar lawsuit brought by national retailer and arising from the sale and implementation of the client's software at customer's headquarters in Troy, Michigan.
Tried case to Gary, Indiana jury involving consulting firm's alleged faulty implementation of Oracle ERP software at customer's headquarters in Indiana.
Representation of several software and technology companies in numerous multi-million dollar software and technology implementation disputes.

Labor & Employment

Representation of publicly-traded technology company in litigation arising from termination of employee who contended that termination was designed to keep employee from exercising stock options.
Representation of one of world's largest metal recycling companies in litigation with competitor arising from client's hiring of senior executive away from competitor.
Lead defense counsel in numerous individual disparate treatment claims alleging race, disability, gender, and age discrimination or retaliation under either Title VII or similar state laws.


Governmental Liability

Handled and successfully resolved numerous § 1983 actions brought against governmental entity clients by employees and others. Lawsuits have included various First Amendment and procedural and substantive Due Process claims involving complex questions of municipal liability and qualified immunity.
Lead defense counsel in wrongful death and personal injury lawsuits filed against various governmental entity clients (including school districts, water districts, and governmental health care providers). Cases often involve complex interpretations of sovereign immunity standards and Tort Claims Act provisions.
Handled and resolved numerous open records and open meetings issues under governmental Sunshine laws.

Commercial Litigation and Counseling

Representation of Fortune 500 international packaging and shipping company in litigation arising from various shipping activities.
Representation of printing company in multi-million dollar claim brought by banking customer who alleged client was negligent in improperly printing incorrect interest rates on credit card mailing inserts.
Representation of manufacturer of commercial roofing materials in multi-million dollar lawsuit brought by customer who claimed client's materials did not meet customer's specifications, thereby causing damage to customer's manufacturing facilities.
Currently providing general commercial law, litigation risk management, and employment law counseling to various small and mid-size businesses, as well as several publicly-traded companies.